5 tags
GrubHub Merges With Seamless
Chicago-based food ordering startup GrubHub is merging with its rival Seamless, creating a company with more than $100 million in revenue and a combined network of more than 20,000 local takeout restaurants across the U.S. GrubHub and New York-based Seamless connect diners to restaurants that offer takeout and delivery, taking a cut of transactions processed through their technology platforms. The...
5 tags
In Spain, NGO taps 'Instagrams' to fight world...
Instagram is a useful tool for sharing our lives visually with others and it's probably a sign of how comfortable the Western world currently is that one of its most popular uses is 'foodstagrams' – photos of everyday meals. We've already seen one restaurant tap the social media service to build a user-created menu, but now a Spanish charity is aiming to fight world hunger with its FoodShareFilter...
5 tags
Eat With: AirBnb for Meals
Eating is traditionally a social experience, something recognized by the UK's Casserole scheme, which connects elderly people with leftover meals cooked by their neighbors. Now EatWith aims to link up travelers in need of food with residents willing to meet new people. While established services such as Airbnb let homeowners open up their empty rooms to visitors on a short-term basis, EatWith...
2 tags
Craft Care Joy, Specialty Food Association
The Specialty Food Association is launching a new brand to highlight the passion, creativity and quality that fuels the specialty food industry, Specialty Food: Craft. Care. Joy. The launch includes the not-for-profit trade association's first-ever advertising campaign. The branding effort started earlier this year with a name change for the Association, formerly the National Association for the...
1 tag
2 tags
2 tags
4 tags
Fairway Market IPO
Fairway Market will go public today and could soon be worth more than fancy-food competitor Whole Foods. Bloomberg reports that the supermarket chain's IPO is scheduled to be $453.6 million. The company, which currently has 12 stores throughout the East Coast and aims to expand to more than 300 shops throughout the country, raked in $554.9 million in sales last year—which is a whole...
2 tags
Grocery Store Tech Panel At SXSW
Takeaways: The panelists quoted a statistic that says that only 41 percent of millennials go to traditional grocery stores but did not acknowledge that grocery stores still have the vast majority of the market cornered. Sure, there are tech-friendly alternatives, such as Greenling, or some of the prepared meals companies, such as My Fit Foods, but big grocers such as HEB, Whole Foods and Safeway...
4 tags
#TECHmunch cool display of the day goes to @driscollsberry twitter.com/ErikDeutsch/st… — Erik Deutsch (@ErikDeutsch) March 10, 2013
3 tags
"When you're the blog for everybody, you're not the blog for..."
– Serena speaking at Techmunch Austin today
6 tags
College Students To Create Grocery Co-op On Campus
In an effort to fill the lack of affordable produce around the University of Minnesota, students want to open a campus grocery cooperative. Last week, a group of about 20 students began planning to approach the University about funding a full-service grocery store in the next few years. The store could be built in the University's Donhowe Building on 15th Avenue Southeast or elsewhere in...
6 tags
New Cookbook App: New Italian Pantry
Renowned chef Sara Jenkins of NYC's Porchetta and Porsena respectfully disagrees – and created her app New Italian Pantry to officially put an end to premeditated cooking.   First, she selected her sixteen most-used ingredients – stuff with a long shelf life like olive oil, dried pasta, and Aleppo pepper. Then she packed the interactive cookbook with 75-plus recipes based on those staples.   So...
2 tags
America's Test Kitchen: Wendy's Gets A Makeover... →
americastestkitchen: Wendy's Gets A Makeover with Fireplaces and Lounges: Oh, you fancy, now, huh, Wendy's? The fast food chain is getting a major facelift, with a brand new logo and a whole lot of upgrades to their restaurant decor and furniture. Never thought you'd see the day when your local Wendy's boasted a…
2 tags
2 tags
4 tags
How Can Restaurant Balance Credit Card Fees While...
Dining is rapidly becoming a cashless experience. Last year, 81 percent of the money spent at full-service restaurants in America was charged to debit, credit or pre-paid cards, up from 72 percent in 2006 and 66 percent in 2004. At quick-service restaurants, many of which only started taking cards in the early 2000s, just 37 percent of sales were charged in 2012, but the trend toward plastic is...
5 tags
Catching Up With Anton Nocito Of P&H Soda
"Retail is such a weird animal. Sometimes people will stock the syrups because they love the labels, and they never taste them," he says, "Restaurant people don't care what it looks like, just what it tastes like." There's a full list on their site, but Nocito confesses to a favorite: "The Modern is just killing it with a hibiscus cocktail they...
9 tags
Farmigo Launches
via Brooklyn Based Farmigo, a new online farmer's market, is launching today in New York, San Francisco and Los Angeles, and they're looking for a few good food communities. Here's how it works: an office, school, neighborhood group or even an apartment building works together to form a food community. You just need a minimum of about 30 members, or 30 orders per delivery and a set pick-up and...
4 tags
Food Truck Industry To Grow From 615M To 2.7B In 5...
From Mobile Cuisine Emergent Research, Intuit's partner on this research project, forecasts the food truck industry to continue its rapid growth. By 2017 food trucks will generate about $2.7 billion in revenue. This is a fourfold increase from the 2012 food truck revenue estimate of $650 million provided by the National Restaurant Association.
3 tags
Seven Careers That Revolve Around Food
The  Brazen Careerist blog has a list of seven careers that revolve around food. I think food blogger and food start-up founder should be included. 1. Analyze Food as a Food Scientist Food scientists develop innovative ways to create safe, durable and tasty food. Instead of a kitchen, you're usually found in a lab or a processing plant, improving packaging methods, experimenting with new...
5 tags
Walmart Launches Food Subscription Service...
Walmart's experimentation with subscription-based commerce continues today, with the public launch of Goodies.co, a food subscription service featuring boxes of sample-sized treats shipped monthly. The service is the latest to emerge from @WalmartLabs, the retailer's Silicon Valley-based innovation lab focused on quickly building, launching, and testing new business models that may or may not...
5 tags
Urban Remedy: A Juice Subscription Service...
Science Inc. has announced the launch of their latest operation, Urban Remedy, a wellness-focused startup that delivers juices, meal replacements, and healthy snacks. The company launches with $1 million in seed funding from Science and a group of angels with experience in the beverage industry. Committed to health and healing, Founder Neka Pasquale directed her energies into Traditional Chinese...
5 tags
GrubHub Introduces New Delivery Tracking Options →
Delivery people can no longer dawdle. Thanks to GrubHub, you can now stalk the food your ordered until it arrives at your door. Available in Chicago, New York, Washington D.C., San Francisco, Philadelphia, and Boston.  Can download via iPhone or Android.
11 tags
Need Help Planning Thanksgiving Menu? Pepperplate...
 I met Gretta, one of the founders of Pepperplate,  nearly two years ago through a food blogger friend. She told me about Pepperplate and demonstrated how it works on an iPad. I was amazed at what it can do. Pepperplate takes a different approach. Instead of being pre-populated with recipes, it let you bookmark and save recipes into your Pepperplate account. From there, you create weekly meal...
5 tags
OpenTable Offers to Build Free Mobile Websites For...
Have you ever gone deaf from the light jazz auto-plays or gone blind from the flash animation from a restaurant's website? Let's face it; most restaurant websites suck. From Mashable:  OpenTable wants to give each of its thousands of restaurant partners their own mobile-friendly website — on the house. The popular online reservation platform launched a free service on Tuesday in...
4 tags
Vegetarians and Vegans: Very Long Tail
I know after the presidential election, you may not want to hear about another damn poll. However, if you are into food, then you may to read about this. People who called themselves vegetarians only make up 5% of the US population according to a Gallup poll. The vegan number is even smaller with 2%.  What's even more interesting is how marital status may affect your eating habits. ...
4 tags
Mobile Skillet
Deborah Chud is a former cookbook author who is the founder of Mobile Skillet. It is iOS app.   [She] founded Mobile Skillet to produce affordable, high-quality, cutting-edge recipe apps for restaurateurs, chefs, food bloggers, food & beverage companies, and cookbook authors looking to reach mobile-savvy cooking enthusiasts.
5 tags
Tealet Founder Elyse Petersen Makes 500 Startups...
Hawaii-based experienced food scientist Elyse Petersen founded Tealet to provide farmers an opportunity to present their stories and tea to the US market. The US market sees a 20% reduction in price for the consumer. Follow her on Twitter at @peaceelyse. Tealet is a curated subscription service for tea. Each shipment includes 60 grams of loose leaf tea.
5 tags
4 tags
Can California's New Cottage Food Law Spur More...
California's bill restricts what types of foods are allowed to be produced and sold from home. Entrepreneurs are also required to attend trainings and adhere to label requirements, but the bill's primary accomplishment—from the perspective of food entrepreneurs—is that renting costly commercial kitchens is no longer required: It's now legal to sell food you make in your own kitchen.
6 tags
Hack/Meat: A Meat Hackathon
December 7 – 9, Food Tech Connect, GRACE Communications and Applegate are bringing together technologists, entrepreneurs, creatives, policy experts, non-profit leaders and industry executives for Hack//Meat, the first-ever "meat hackathon" in New York City.
5 tags
Food Blogs Vs Food Magazines
(Photo of my food blog, Cupcakes Take The Cake) Dianne Jacobs' Will Write For Food is a must read for anyone who has an interest food writing and the food industry.  I love her posts. Recently, she did an analysis of reach and influence between food blogs and food magazines. 1. Simply Recipes has a stunning reach. She has larger readership than 10 of the top 11 national magazines. 2. A...
5 tags
Nikki Herrera-Bharwani Is Manila's Green Grocer
Nikki Herrera-Bharwani. This little lady right here aims to redefine the way we consume food: by replacing those pre-packaged, genetically modified ones with these organic finds. And because of this, she decided to put up The Green Grocer, which is "Manila's first home delivery service of fresh produce, artisan bread, premium meats, deli items, and other grocery necessities."
3 tags
People's Community Market In Oakland
In order to feed the people, you have to get them invested. That's the motto of an organization that's banking on its community to fund a startup grocery store in the grocery-starved neighborhood of West Oakland. Less than a month in, the project has already created quite a buzz around the Bay Area and raised more than $200,000 of its $1.2 million funding goal from a pool of small, local...
4 tags
Plated
Plated reestablishes the simple joy of cooking delicious 30-minute meals. Sign up for two, three or five pre-packaged meals fully equipped with ready-to-cook locally-sourced gourmet ingredients curated by a monthly featured chef. Starting at $10 a meal, choose the Seared Tuna Sushi Bowls, Chorizo Tacos or Pasta Carbonara with Edamame. "Food e-commerce is the final frontier of e-commerce,"...
3 tags
GrubHub not confirming reports of an IPO
Online food delivery service GrubHub wouldn't confirm or deny reports Friday that it plans an initial public offering next year. The Chicago-based company said it is keeping its options open as it continues to grow, according to the Chicago Tribune. Reuters earlier reported that GrubHub, which lets diners order food via the Internet or mobile phones, has selected Citigroup to lead an IPO in 2013...
3 tags
Triveting The Content On Niche Food
Niche Food started as a place for me to post photos and blog about food that wasn't cupcakes. Now with Instagram and Pinterest, I haven't been post here that often. Today I have decided to "trivet" the content on this blog. Instead of using the word "pivot" which is used to describe when a startup changes their business model, I am using the...
1 tag
Watch
banana pudding on Flickr. I made this video back in April 2008.
3 tags
3 tags
2 tags
3 tags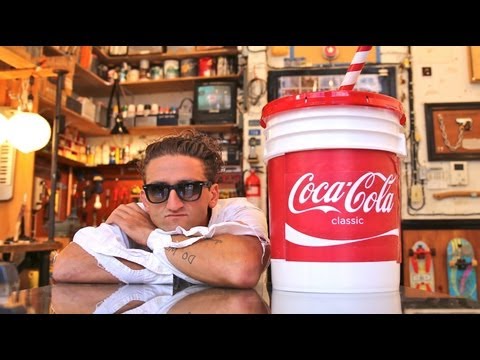 1 tag
2 tags
2 tags
4 tags
3 tags
3 tags
4 tags